ACCESS & TOURISM
アクセス & 観光情報
Travelling the Ise-Shima Toba Region…
We hereby present you a variety of sites
filled with unique charms in order for you
to thoroughly appreciate every corner of the Ise-Shima Toba region
from SHIMA BOAT HOUSE.
Guidebooks and maps are made readily available
within the facility at all times for your shopping
and visits to tourist attractions and restaurants during your stay.
ACCESS
ACCESS
アクセス
699-17,
Shinmei, Agocho, Shimashi, Mie
※ Please be sure to type "SHIMA BOAT HOUSE" when searching through Google Map.
8minutes on foot from Kashikojima Station.
40minutes by car from Ise Jingu.
2hours by car from Nagoya.
2hours half by car from Kyoto.
3 hours by car from Osaka
Parking:about 5 cars
*EV-PHEV charging battery charging box available. There are shops where you can purchase local food such as supermarket, fresh fish store, bakery, etc. within 5 minutes by car.
(There is a map of surrounding area in the accommodation.)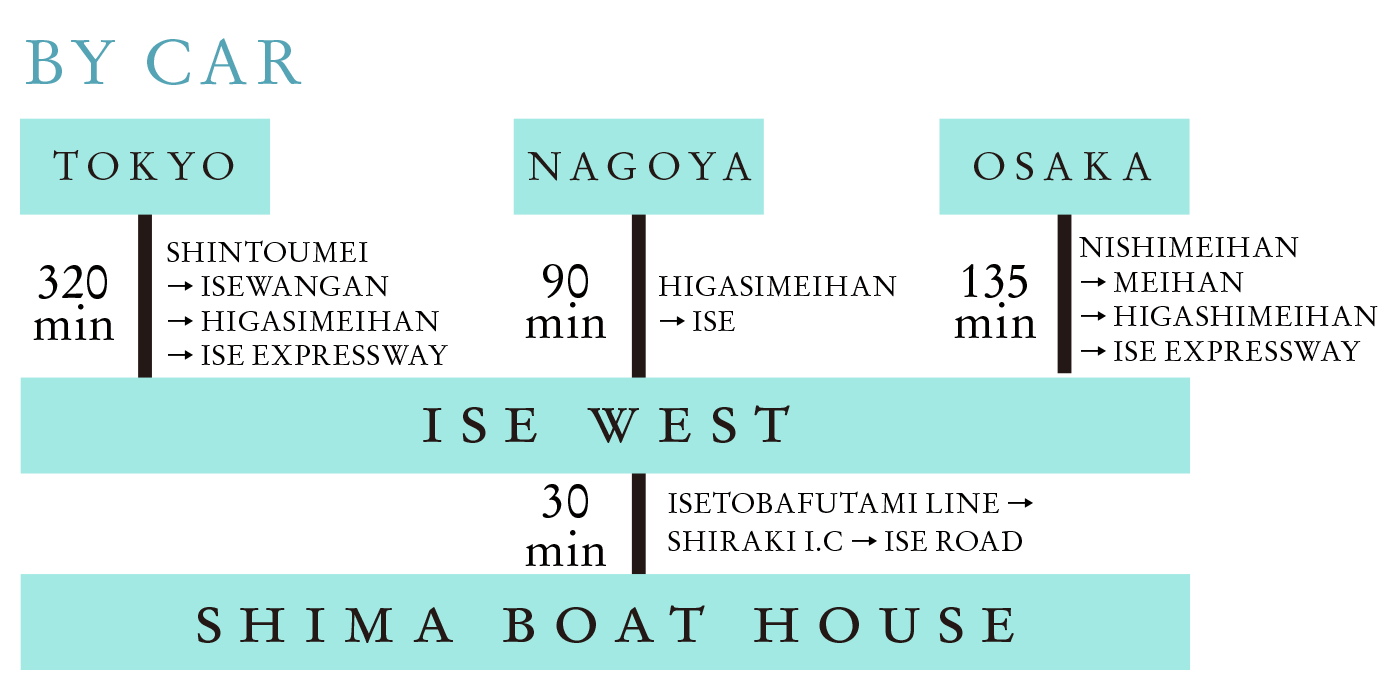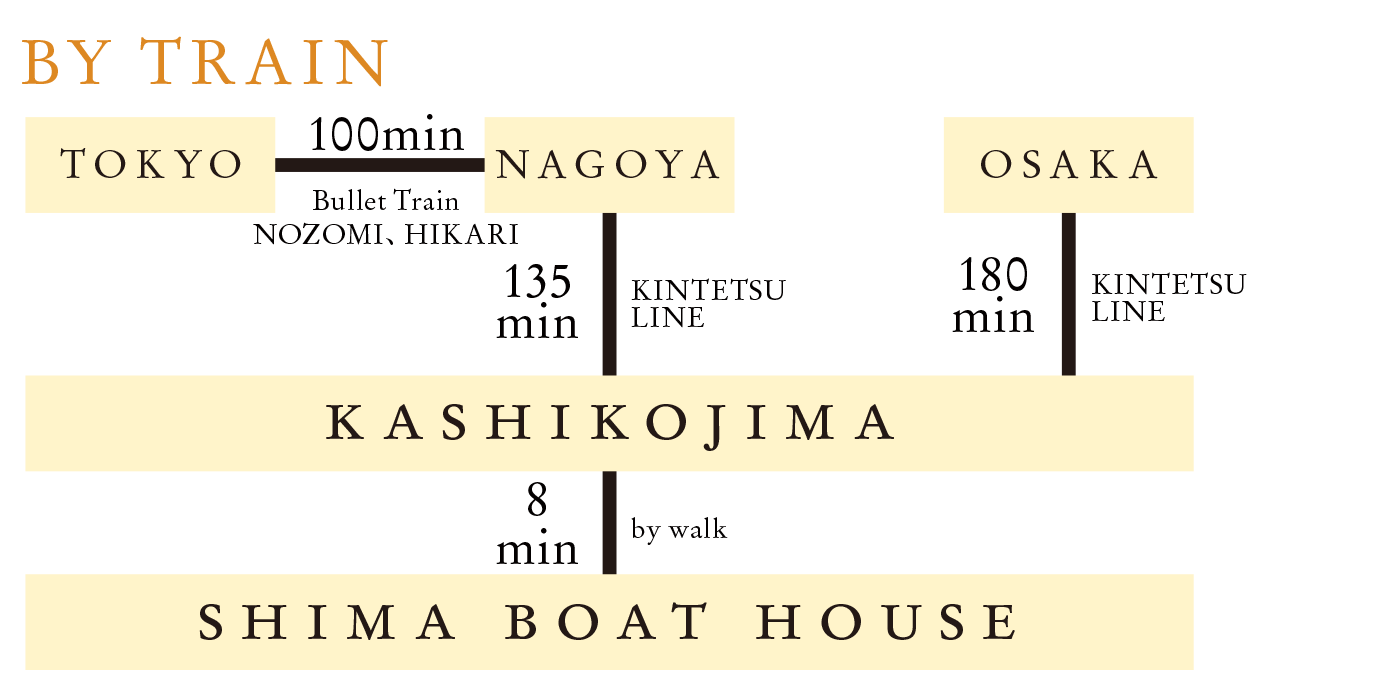 RECOMMENDED SPOT
SHIMA BOAT HOUSE周辺マップ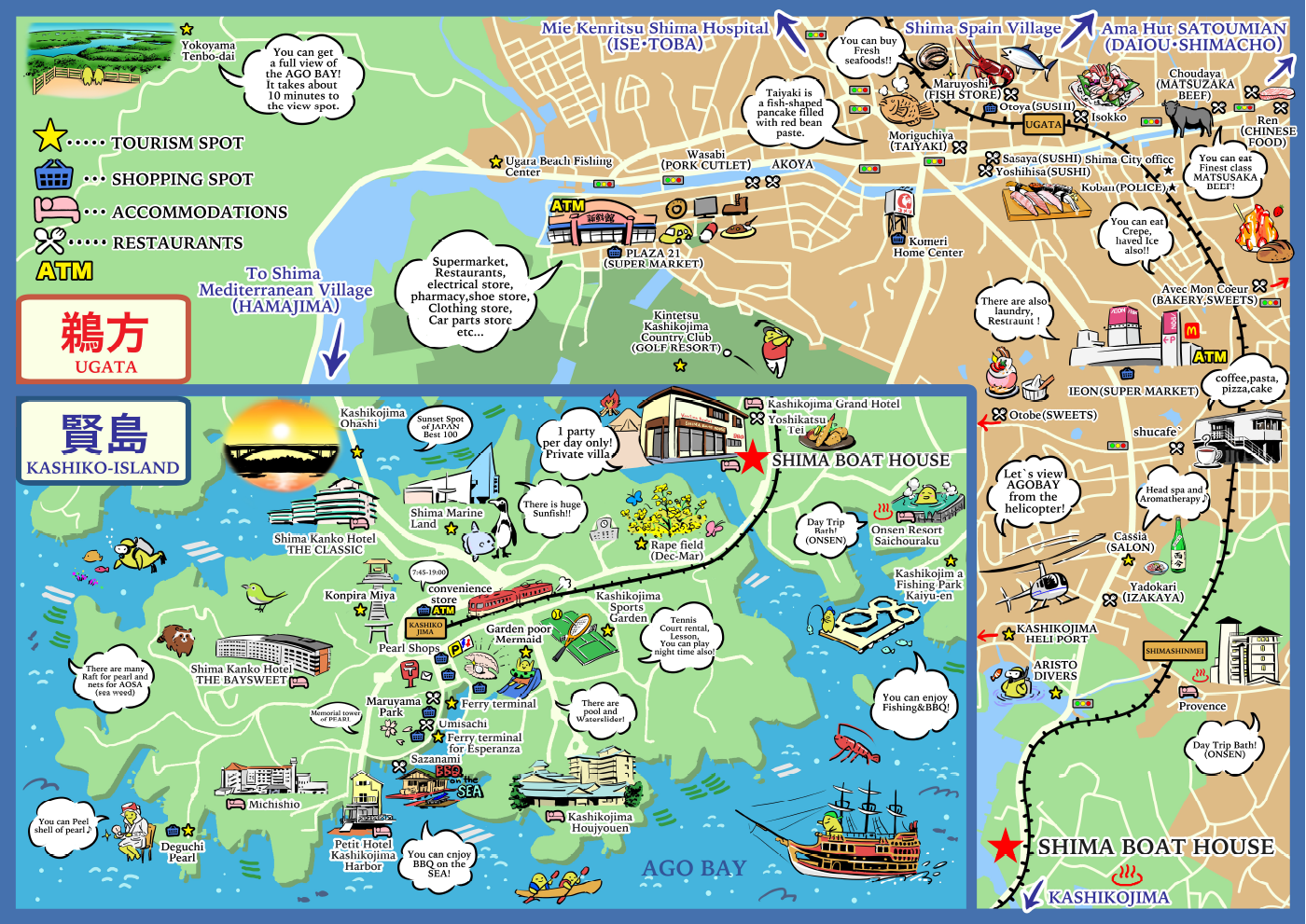 EXPANDING
ISE・TOBA AREA

伊勢・鳥羽エリア
Ise Jingu

The Jingū Shikinen Sengū has been going on for over 1,300 years.
Ise Jingu is the collective name for 125 jinja(shinto shrine)
(30min by car from SBH)

Okage Yokocho

A town rich with shinon kansha,the spirit of thankfulness for nature`s generosity.
There are a lots of old fashioned shops
(30min by car from SBH)
※near Ise Jingu

Sarutahiko Shrine

Sarutahiko Shrine is dedicated to Sarutahiko Okami, the Kami with powers to expel evil and guide worshippers in a positive direction.
(30min by car from SBH)
※near Ise Jingu

TOBA AQUARIUM

Toba Aquarium rears the most numerous species in japan.
about 1200 species of popular and unique marine lives are gathered from the world.
(35min by car from SBH)
SHIMA AREA

志摩エリア
Yokoyama Tenbo-dai

There is an unbroken view of the Ago Bay which is famous for its deeply indented coastline.
The view of the approximately 60 islands and numerous pearl boats is absolutely incredible.
(15min by car from SBH)

Shima Mediterranean Village

A resort facility with a truly Spanish atmosphere.
(20min by car from SBH)

Espana Cruise

The ship elegantly cruises in the bay with 60 over islands and pearl oyster rafts.
(1min by car from SBH)

The Shima Spain Village

The Shima Spain Village is a complex of resort facilities in Shima City, Mie Prefecture, which has a sister-city relationship with Valencia in Spain.
(18min by car from SBH)

Yoshikatu-Tei

Yoshikatsu-tei is a modest restaurant located in the entrance of Kashikojima and famous for juicy pork cutlet.
(0min by walk from SBH)
※Next to SBH

Kashikojima
Grand Hotel

You can eat A bowl of rice with sashimi(seafood) on top.
(0min by walk from SBH)
※Next to SBH

Maruyoshi Store

You can buy many kind of seafoods of the highest quality.
Recommended such as souvenir, BBQ stuff.
(7min by car from SBH)

Yukai Resort

Natural hot springs that can be enjoyed on one coin(¥500)
(1min by car from SBH)

Shima Marine Land

A popular aquarium with charming globefish and cute penguins
(1min by car from SBH)

Kashikojima Bridge

You can view beautiful sunset that is known to be one of the 100 greatest-looking sunsets in Japan.
(1min by car from SBH)

Kashikojima Fishing Park Kaiyu-en

You can enjoy empty-handed Fishing and BBQ.
(1min by car from SBH)

Moriguchiya

You can buy handmade Fish-shaped waffle(Taiyaki).
(7min by car from SBH)

SHEVRON CAFE

You will enjoy Various menus in Terrace seat where feel wind from the sea blows comfortably
(20min by car from SBH)

Kabuku Resort

You can enjoy Tempura cuisine by Todari chef who get Michelin one star for 7 consecutive years.
(16min by car from SBH)

Ichigo Beach

It`s beauteiful beach where has white sands.
This beach is Mecca of Surfin. (16min by car from SBH)

Azuri Beach

Spread off the white sand beach off the coast View of the Pacific Ocean and magnificent sunset
(30min by car from SBH)

Tsumekiri Fudoson

Founder Kobo Daishi who conveyed the Buddhism made Holy silence shrine.
(30min by car from SBH)

The Woman Diver Hut ISODO

Enjoy fresh, grilled seafood and with active women divers in the hut where they get warm.
※Advanced reservation required.
※Need Japanease interpreter
(30min by car from SBH)

Goza Shirahama Ocean Swimming Area

With its shallow shore and plethora of white sand, this location was chosen as one of Japan's 100 Best Spots for Ocean Swimming.
(30min by car from SBH)

Cloud 1 Dining ENISHI

You can enjoy Variety-rich dishes used fresh ingredients from Primary producer Also recommend Akamoku rice bowl!(About 30 minutes by car from SBH)

CONTACT
If you have any questions or requests,
please do not hesitate to contact us
10:00〜18:00
※ Reservations by phone are not received.